برنامج NoxPlayer (Nox App Player) هو محاكي لنظام التشغيل المحمول يتيح للمستخدمين إنشاء بيئة Android مباشرة على أجهزة الكمبيوتر
 بمساعدة هذا البرنامج ، يمكن للمستخدمين الاستمتاع بتجربة Android كاملة على أجهزة الكمبيوتر الشخصية الخاصة بهم.
تبدو واجهة المحاكي مماثلة من جميع النواحي إلى أجهزة Android الحقيقية ،
ويمكن للمستخدمين أيضًا التبديل إلى طريقة إدخال اللمس ، لتقليد تجربة Android تمامًا.
استنادًا إلى إصدار نظام Android 4.4.2 ، تأتي الأداة مزودة بميزة الدمج في Google Play ، وهي ميزة قد لا تتميز بها الأدوات المنافسة.
وبالتالي ، لا يمكن للمستخدمين تحميل ملفات APK المخزنة بالفعل على أجهزة الكمبيوتر الخاصة بهم فقط ولكن يمكنهم تنزيل البرامج وتثبيتها من المتجر الرسمي.
وفى هذه التدوينة اقدم لكم آخر إصدار من البرنامج
محاكى تشغيل الأندويد على الكومبيوتر | NoxPlayer 6.2.6.0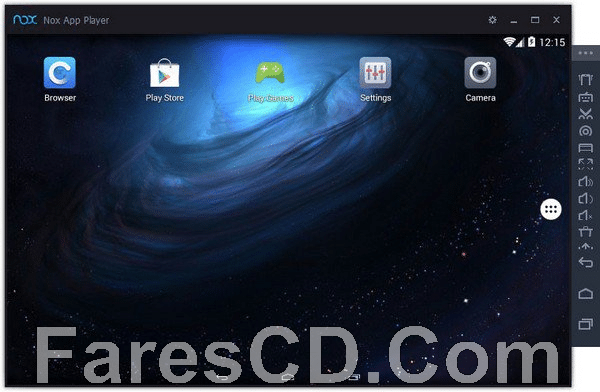 Test applications and play games
The tool can prove highly useful when it comes to testing newly developed applications,
but it is also meant for those looking only to play Android games with the help of their computer's keyboard and mouse.
Nox App Player comes with a multiplayer mode, which allows users to run multiple concurrent instances of the emulator on the same computer screen.
Thus, they can have each instance of Nox App Player running a different application or game in the foreground, and can monitor all of them simultaneously.
Connect gamepads and controllers
The emulator has been designed with support for connecting gamepads and controllers
and also offers full support for the computer keyboard, which can prove handy when playing ARPGs (Action Role Play Games).
The emulator allows users to choose a location for their virtual device and also delivers access to all of the settings
and configuration options that a real Android device would offer to them.
A robust development tool
All in all, Nox App Player is a powerful Android emulator that allows users to run Android applications and games directly on their computers.
It is an appealing entertainment tool,
but it can also prove a great development utility, as it allows programmers to test their new applications in a full-featured environment.
FEATURES
• Developed on Android 4.4.2 kernel
• Google Play store integrated
• Support input/output devices, gamepad and controller
• Multiplayer mode which can be activated with ease
• Customize CPU/RAM occupation and resolution
مساحة البرنامج 315 ميجا تقريباً
تحميل موفق للجميع
انتهى الموضوع
كلمات دلالية :
محاكى تشغيل الأندويد على الكومبيوتر , برنامج محاكى تشغيل الأندويد على الكومبيوتر, تحميل محاكى تشغيل الأندويد على الكومبيوتر, حمل برابط مباشر محاكى تشغيل الأندويد على الكومبيوتر, أفضل محاكى تشغيل الأندويد على الكومبيوتر, أحسن محاكى تشغيل الأندويد على الكومبيوتر, اسرع محاكى تشغيل الأندويد على الكومبيوتر , NoxPlayer  , برنامج NoxPlayer  , محاكى NoxPlayer
تحميل محاكى NoxPlayer , آخر إصدار من برنامج NoxPlayer , برنامج NoxPlayer  للتحميل برابط تورنت NoxPlayer , تحميل برنامج NoxPlayer  برابط مباشر

---
---