كورس اللغة الفرنسية | Tell Me More French v10
شركة Tell Me More من أقوى الشركات العالمية المتخصصة لتعليم اللغات
وتتميز إصدارات هذه الشركة بالشمولية والتدرج فى التعليم لانها تحتوى على مستويات عديدة من  البداية لتصل بك إلى الإحتراف
كورس اللغة الفرنسية | Tell Me More French v10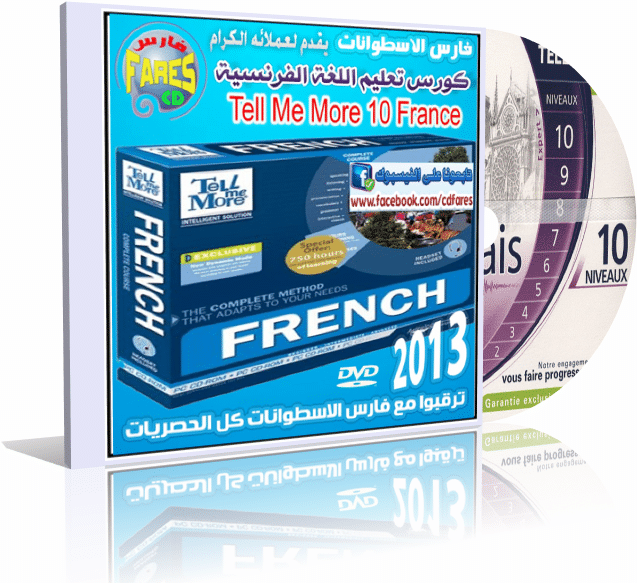 يعتبر هذا البرنامج، البرنامج الأول في مجال تعليم اللغات و من ضمنها اللغة الفرنسية.
فيمكنك العمل على البرنامج بشكل حر أو التقيد بخطة دراسية و ذلك خلال 10 مستويات مختلفة.
كل مستوى يحوي مجموعة كبيرة من الأنشطة لتغطية جوانب مختلفة من المهارات كالمفردات و القواعد و المهارات الشفهية و الكتابية.
و مما يميز البرنامج هو تقنية التعرف على النطق، ففي بعض الأنشطة يتطلب عليك نطق كلمات أو جمل بعد سماعها، فالبرنامج سيظهر لك مدى قرب نطقك لهذه العبارات
مقسمة الى 6 مراحل لتغطية كل مهارات اللغة الفرنسية كالتالي :
,الدروس, الثقافة ، القواعد , الكلمات والألفاظ , الكتابة والتحرير , التحدث والنطق
TELL ME MORE® v10 French 10 Levels will allow you to master French, providing you with the most complete and extensive content to learn French.
The new TELL ME MORE® version 10 is a true milestone in language learning. Developed by a team of language experts, TELL ME MORE® leverages the renowned Communicative Approach, a methodology used in schools and universities around the world. TELL ME MORE® implements this methodology using the exclusive PRIME approach.
Exciting new features
New User Interface
The clean lines, uncluttered screens, simple icons, tight color scheme and overall usability makes your language learning fun and easy.
New Tracking Tools
Visualize your progress throughout the entire program.
10 DISTINCT LEVELS OF LEARNING
– Contains 10 distinct levels of content, from Beginner to Advanced.
– 20 hours of interactive video.
– 20,000 exercises that keep your learning fresh and engaging.
EXCLUSIVE SERVICES TO ASSIST YOU WITH YOUR LEARNING
– An exclusive Progress Test to evaluate your progress.
– Weekly EuroNews® lesson incorporating video, vocabulary and grammar exercises to teach you about a current news topic.
– A 24/7 Online Adviser.
STATE-OF-THE-ART TECHNOLOGY
– The most advanced speech recognition on the market, allowing you to significantly improve your pronunciation.
– S.E.T.S. (Spoken Error Tracking System) technology that pinpoints mispronounced words.
– A role play activity that allows you to play a character in an original TV series.
LEARN "ON THE GO" WITH TELL ME MORE®
– Learn with your Pocket PC (videos, audio files, cultural texts, etc.)
– Learn with your MP3 player (Including iPods and other MP3 devices)
– Learn with audio CDs that you create
– Learn with printable vocabulary lists and grammatical explanations
Receive a 90-Day Money Back Guarantee on all TELL ME MORE® products – exclusively on this official site.
مساحة الاسطوانة 2.5 جيجا تقريبا
تحميل موفق للجميع

انتهى الموضوع
كلمات دلالية :
تحميل كورس فرنساوى كامل , تحميل كورس فرنساوى للمبتدئين , تحميل كورس فرنساوى كامل مجانا , تحميل كورسات فرنساوى للمبتدئين , تحميل كورسات فرنساوي , تحميل كورسات فرنساوى مجانا
Tell Me More French v10  , تحميل كورس Tell Me More French v10 , اسطوانة Tell Me More French v10 , تحميل اسطوانة Tell Me More French v10 , حمل برابط تورنت Tell Me More French v10 , مل برابط مباشر Tell Me More French v10


---
---